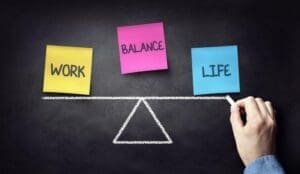 As the world of work continues to evolve, so too does the importance of creating a healthy balance between life and work.
With an increasing number of employees working remotely or in hybrid settings, maintaining a healthy balance is essential for both employee well-being and overall business productivity. To address this issue, many organizations are turning to psychology as one way to help reduce burnout and promote healthier work-life balance.
The Importance of a Good Work-Life Balance
Research has shown that creating a healthy work-life balance is key to reducing stress and burnout in the workplace.
This is especially true for remote and hybrid workers who may feel isolated or lack social support from their colleagues. Therapy can help employees manage anxiety, depression, and other mental health issues that arise when trying to juggle responsibilities between life at home and work tasks.
The Challenges of Maintaining a Healthy Work-Life Balance
Maintaining a healthy work-life balance has become increasingly difficult in our modern 24/7 connected society. The need to remain constantly available can cause stress and anxiety, which can lead to burnout if left unchecked.
For those working remotely all or most of the time, the lack of regular in-person interaction with colleagues can lead to feelings of isolation and further exacerbate the problem.  In particular, if they do not have or are regularly using other tools to collaborate and communicate, as well as making time to spend with friends in their community.
Additionally, employees may struggle to manage competing demands from work and home, which can quickly lead to an unhealthy cycle of overworking and exhaustion.
Here's a list of challenges many employees go through when trying to maintain a healthy work-life balance:
The Blurring of Work and Personal Life Boundaries
In today's connected world, it can often be difficult for employees to disconnect from their work tasks and focus on their personal lives. Even though many workplaces have policies that allow employees to "turn off" when they're not working, sometimes the line between the work day and the personal day can be blurred when working from home.
Poor Physical Work Environment
Working from home can also affect employees' physical workspace, which can lead to feeling uncomfortable or unmotivated during work hours. Working in an environment that is not ergonomically correct (like a dining table or from the couch) or one that does not provide enough natural light and air circulation (think basement apartment) can contribute to feelings of discomfort, which may lead to decreased productivity.
Lack of Social Interaction
For remote and hybrid workers, the lack of in-person social interaction with colleagues may impact their well-being, depending on how they stay connected remotely and in their community. A lack of frequent face-to-face meetings or just a general sense of isolation within a virtual environment can lead to feelings of loneliness and disconnection from the team.
Benefits of Therapy for Improving Mental Health and Reducing Stress in Remote Employees
Therapy and psychotherapy can help employees learn coping skills to manage stress, anxiety, and depression. It provides a safe space to discuss the challenges of maintaining a healthy work-life balance and gain insight into how to improve it. Psychotherapy also helps reduce burnout by providing employees with the tools they need to recognize when they are feeling overwhelmed and how to manage those feelings in a healthy way.
Here are just some benefits that therapy from a Registered Psychologists, Psychotherapists or Counselling Therapists can have on a remote employees who are having a hard time working from home: 
Increased Self-Awareness
Therapy can help employees become more self-aware about their work and personal lives. This can help them identify the triggers that lead to stress or anxiety and how to better manage those feelings. 
Improved Communication Skills
Through therapy, employees learn techniques for effective communication with colleagues at work which can improve team dynamics and relationships. It also helps employees become more mindful of how they communicate with their managers and other stakeholders.
Better Stress Management Skills
Therapy can also help employees develop better stress management skills. This includes teaching them relaxation techniques, developing healthy coping strategies, and finding new ways to manage the demands of both work and home life.
Improved Mental Health
Engaging in therapy can help employees improve their overall mental health. This can lead to better decision-making, increased productivity, and enhanced morale which all contribute to a healthier work-life balance.
Increased Job Satisfaction
When employees have a healthier work-life balance, they tend to be more satisfied in their jobs. This can lead to increased levels of job satisfaction and engagement with the team which will ultimately benefit the organization as a whole.
Improved Relationships
When employees have a better work-life balance, they can dedicate more time and energy to their relationships with others. This includes forming stronger connections with colleagues at work, maintaining healthier relationships outside of the job, and having better communication within their family or social life.
Increased Resilience
Finally, psychotherapy helps employees develop resilience. This means they learn how to handle challenging situations and be better equipped to cope with future stressors in both their personal and professional lives.
Achieving a healthy balance between work and personal life can be difficult, especially for remote workers. But it is essential for both employers and their employees in order to ensure a successful and productive work environment. By encouraging remote workers to engage in therapy, employers can help promote the mental well-being of their teams while also improving team dynamics and overall productivity.
Connect with Our Registered Psychologists and Career Counsellors Today!
Since 2009, Canada Career Counselling has been helping employees improve their overall mental health, develop better communication skills, increase job satisfaction, and develop resilience to handle future stressors in both their personal and professional lives. Our registered clinicians blend therapy with career counselling in a practical and strategic way.
Contact us today to learn more about how our registered psychologists and career counsellors, from coast-to-coast, can help your remote team achieve a healthy work-life balance.